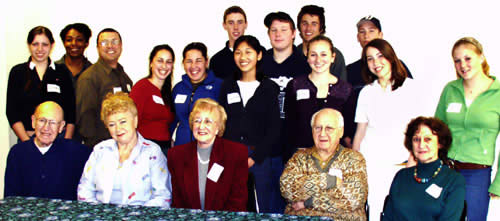 Overview:
High school (10-12th grade) students complete background research and conduct interviews of Bay Area residents who directly experienced key historical events of the mid-20th century. The current topics include the stories of Holocaust survivors, concentration camp liberator/witnesses, and Japanese American camp internees. Future topics will deal with other compelling historical issues of the 20th century with emphasis on the stories of our elders who experienced trauma earlier in their lives. Students study oral history techniques, prepare background research on the course topic, conduct videotaped interviews with eyewitnesses, and produce a multimedia project to be archived on a growing website for public access. Students learn a combination of skills involving historical research, listening, and interviewing as well as digital camera, editing and web-page publishing techniques.
Course Goal & Purpose:
Students gain deep understanding of modern history through face-to-face involvement documenting the stories of our elders, while at the same time providing a public service via the publication of their interviews. The course serves to expand the Urban School's study of the diverse Bay Area history while directly addressing part of the school mission of extending our reach to the community "by meaningful engagement with the real world outside the classroom."
Oral History Archives Project Goal and Purpose:
The Urban School will publish a rich source of primary source material for use by students and researchers around the world.
Oral History Archives Project Summary:
The course spans a 12-week session during which time students take only 3 other classes. Students meet 3 days a week for 70 minute classes and 1 a per week for nearly 2-1/2 hours.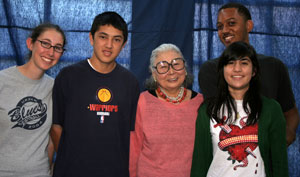 Phase I - Background Training
All students previously take a full term 20th Century World course where they complete an overview of issues of the Holocaust. The first several weeks of Telling Their Stories is spent examining the history in more detail, preparing students for the more independent research phase that follows. Students are trained in oral interview techniques using a model of inquiry focusing on extracting the subjects personal story, rather than an attempt to document all details. Expert training in interview techniques is provided by professional interviewers and guest experts from the Bay Area. Students are also trained to use digital video equipment to record and later edit their interviews. Students have access to personal laptop computers throughout the course to aid note-taking organization, historical research, and the final editing and creation of their Web-based project.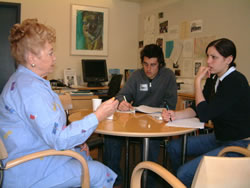 Phase II - Initial Non-Taped Pre-Interview
Working in small groups, students conduct an initial non-taped interview with their assigned subject, lasting approximately 1-1/2 hours. Basic personal data is recorded which then guides both their follow-up research as well as the final taped interview. This initial interview also helps establish personal rapport between the students and the subject, a critical component helping both parties feel comfortable resulting in a more successful and informative taped interview. A general release form is presented to the survivor at this time granting the Urban School the rights to publish the subject's story on the Internet.
Phase III - Research and Preparation
Students conduct independent research specific to their survivor's history and personal story. The goal during this phase is to build a strong background of knowledge to both facilitate good questioning as well as to help students attend and understand their subject's story. A variety of sources are used under the guidance of the teachers, the school Librarian, and other experts identified to support student researchers.
Phase IVa - Taped Interview
Each interview team travels to the subject's home (or other arranged location), accompanied by one of the teachers, and conducts a taped interview lasting approximately 2 hours. Filming equipment is simple, with a camera on tripod, an extra fill-light, and microphones.
Phase IVb - Second "Follow-up" Interview
During the second year of the project a new team of students (a new class) conduct a second round of taped interviews with the same subjects as during the previous year. Each new student team studies the work of the previous year's students including all notes, the initial Pre-Interview, and most importantly, the text and movies from the previous year. They also conduct further background research. These "Follow-up" interviews build upon the testimonies from the previous year, resulting in a much more complete oral history. The transcripts and movie files are then embedded within the original transcript.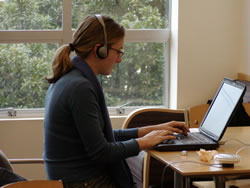 Phase V - Editing and Production
Students spend the final few weeks completing their project with the goal of creating a series of Internet Web pages containing primary source documentation of their subject's story. Each project is composed of paired transcription and movie files. Viewers on the final website are able to read, watch and listen to the complete set of interview answers. Students may also enhance their project with hypertext links to other relevant historical information as it appears within their subject's story.
Phase VI - Parent Volunteer Proof-Editing
Volunteer parents read, watch and listen to interviews and correct transcript errors prior to publication.